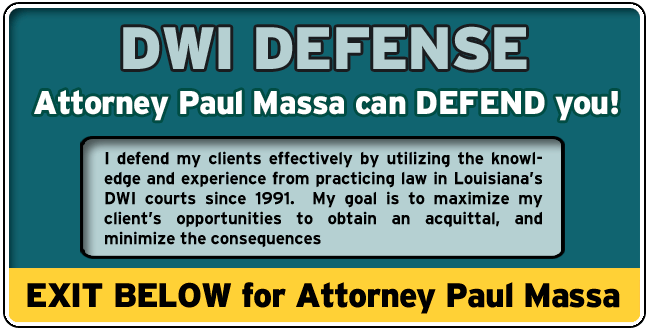 Attorney Paul Massa has been helping New Orleans, Louisiana motorists by providing legal representation for DWI, driving while intoxicated criminal charges since 1991.
New Orleans, Louisiana DWI Overview
For many people, a DWI is their first arrest and criminal charge. A Louisiana DWI can result in serious consequences, including jail time, fines, surcharges, community service, and a loss of driving privileges. In addition, people with DWI convictions on their records find their motor vehicle insurance premiums going sky high, if they can get insurance at all.
Louisiana drunk driving defense attorney Paul Massa works hard to defend your rights and driving privileges both in court and before the Department of Public Safety (DPS). I'll take your case to trial if necessary to avoid a DWI conviction. I will also help you get your driving record and criminal record expunged when that's possible.
For a FREE initial consultation use the contact form here
What to do if you've been charged with a Louisiana DWI?
If you've been arrested and charged with drunk driving or driving under the influence in Louisiana, you're facing civil and criminal charges. Call an experienced DWI attorney right away – you have only days in which to request an administrative hearing to try to prevent your driver's license from being suspended by the Department of Public Safety.
I need to work quickly to prepare your case for the Administrative License Hearing; to obtain a copy of the police report and videotape, to review the evidence and develop your defense. I'll subpoena the police officer and cross-examine him/her as part of our effort to explore every avenue to find all the possible weaknesses in the case against you.
If your license is suspended, Paul will help you get an hardship drivers license if you qualify, so you can continue to drive to and from work and for essential household activities.
The Administrative License Hearing is not the end, however. You will still have your day in court. It may seem that the prosecutor has the cards stacked against you, but they have to prove their case beyond a reasonable doubt. That's a very high standard and I'm going to fight all the way to protect your rights, using everything at our disposal.
Louisiana, Louisiana DWI Attorney / Lawyer Paul Massa is committed to providing aggressive, effective, and professional legal representation.
DWI
The charge of driving while intoxicated (DWI) is made when a person is determined to have a blood alcohol concentration (BAC) of .08 or more while driving a motor vehicle and/or is intoxicated by the loss of his/her normal use of mental or physical faculties by the introduction of alcohol or drugs or a combination of alcohol and drugs. Several sobriety tests can be used to determine if that level has been reached, but the timing and type of test can greatly influence the results and can lead to innocent people being charged with DWI.
Some of the defenses I use to increase my clients' chances to obtain an acquittal:
The officer had no legal right to pull your vehicle over.
Law enforcement did not comply with Louisiana law.
You were not given the option to take a breath or blood test.
You were questioned in violation of your Miranda Rights.
You requested but were denied the right to an independent test.
You have been denied your right to a speedy trial.
Your blood alcohol level was lower when driving than when tested.
Louisiana, DWI Attorney / Lawyer Paul Massa is committed to providing aggressive, effective, and professional legal representation.